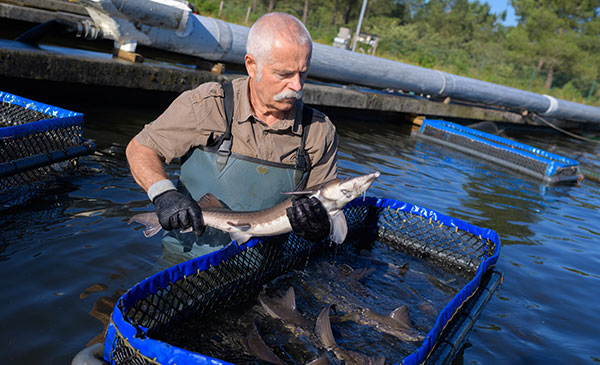 Seafood processors
nanoICE is the best fit for seafood processors, as it reduces spoilage and keeps the product fresh for a longer time without damaging its appearance.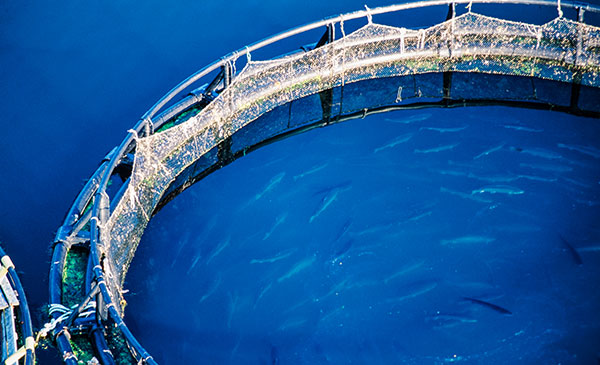 Aquaculture producers
nanoICE helps all aquaculture producers to keep their catch fresh (not frozen) and ensure better quality and more sellable weight.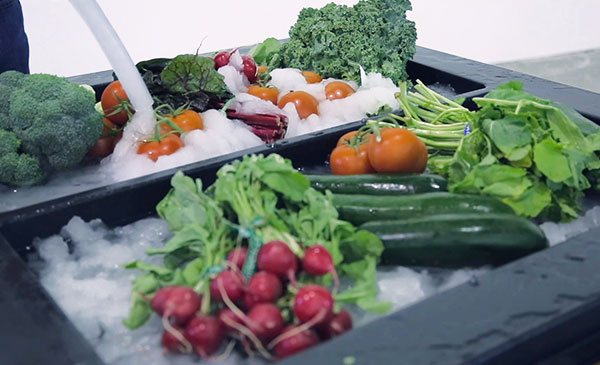 Produce companies
nanoICE is extremely gentle to the most delicate product surfaces and can be used to preserve fruits and vegetables fresh without causing any damage.
WHAT'S IN IT FOR YOU
We solve long-lasting challenges in food preservations
nanoICE's unique features address multiple challenges for seafood harvesters and producers delivering up to 15% improvement in post-harvest yields.
• Pumpable ice solution
• Both super-cooled water and ice
• Intuitive touchscreen interface
• Easy and accurate hose delivery
• No more shoveling
• Easy to install
• Simple to maintain
• Collect sensor data
• Built-in troubleshooting
• Can be remote controlled
• Longer product shelf life
• More sellable weight
• Increased profit margins
• Return on capex in 18 months
• Small and modular machines
• Less energy and less refrigerant
• Use in various industries
• Customizable for your needs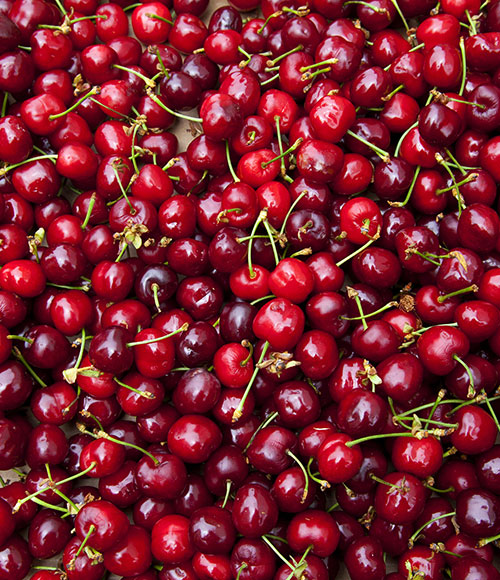 35% better pedicel (stem) retention
In 2011, nanoICE partnered with the Washington State University in order to perform an extensive test on Skeena & Rainer cherries to evaluate the ways both nanoICE and flake ice affect such gentle products.
The cooling tests showed that nanoICE quickly and dramatically reduced fruit temperature. Further analysis revealed better color grade, visual appearance and stem retention in fruit treated with nanoICE.
The nanoICE team self-conducted a quick experiment where we stored salmon for 3 days in two separate containers – one filled with flake ice and the other filled with nanoICE.*
In just 72 hours, the salmon treated with flake ice showed signs of advanced bacterial infection and discoloration. The fin had slipped down and had pulled away from the flesh, which documented for ongoing dehydration and enzymatic breakdown. Additionally, there was a pool of drop loss, containing largely protein.
On the other hand, the salmon we placed in nanoICE did not have any signs of drip los or colour discoloration. The fin had stayed in its original position. And since nanoICE is liquid, it had also penetrated the inner side of the fish, keeping its core cool inside and out.
* Third-party validation needed to prove results.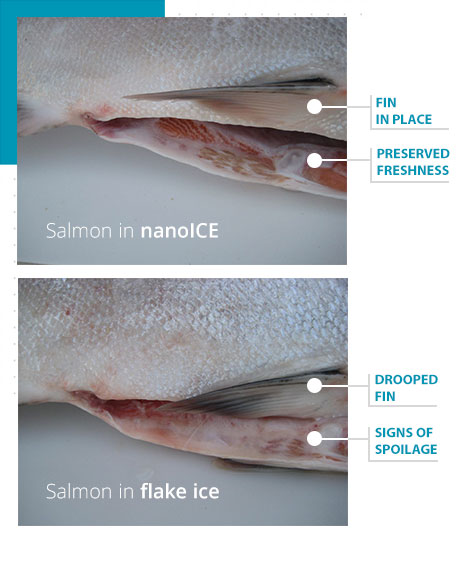 TESTIMONIALS
What our clients say
I've used NanoICE for 5 years. Cooling is much faster and more consistent.
The fish quality is better, the buyers are happier, and we don't have to shovel flake ice anymore.
nanoICE is unique to the industry; we have not experienced results like these with any other ice product.
Principal usage guideline for nano-ice
Optimizing the inherent benefits of nano-ice
NanoICE is a revolution in food preservation that keeps food fresher longer, while drastically reducing bacterial growth and spoilage. Less than a micron in size, NanoICE particles allow for full contact with the surface of the product, causing nanoICE to remove heat from the product faster than any other ice technology on the market.
Explore our additional resources to find out more about the nanoICE machines.
Do you need more information?
Do not hesitate to contact us! All you need to do is send us a message or give us a call.
Applications