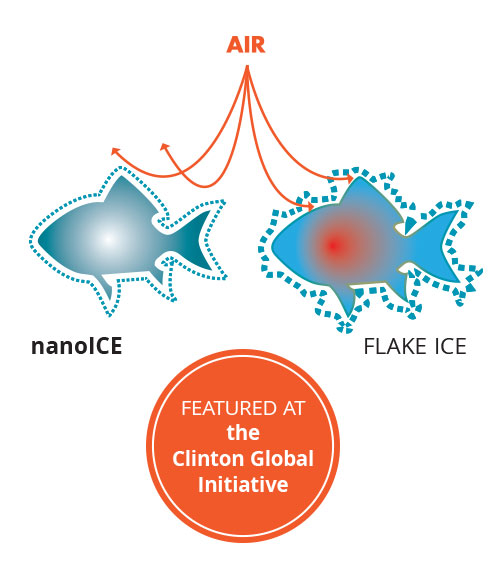 WHAT IS NANOICE
A revolution in food preservation
nanoICE is an innovative molecular ice technology that naturally keeps food fresh for longer. We also like to say that nanoICE simply improves all aspects of shelf life (appearance, nutritional value, and taste), optimizes production costs and increases food quality.
It creates full contact with the product surface, lowering temperatures quicker than any other ice solution and drastically reduces bacterial growth and spoilage.
nanoICE simultaneously chills and hydrates the product, thus reducing shrinkage and preventing product weight loss. And since its texture is extremely soft, this solution is gentle on the product surface and does not cause any bruising or scratches.
Based on true innovation, nanoICE uses nano particles that are less than a micron in size to fully cover the product and lower its temperature faster than conventional ice solutions.
As a more sophisticated cooling method, nanoICE naturally creates an oxygen-deprived environment, which reduces bacterial growth, thus preventing spoilage without any use of chemicals or freezing.
Because nanoICE simultaneously hydrates and chills the product, it reduces shrinkage and prevents product weight loss.
Since nanoICE is in liquid form, it is extremely gentle to delicate products and does not cause any damage during harvesting, transportation, or storage (unlike flake and crushed ice).
nanoICE is an FDA G.R.A.S approved for preserving the freshness of seafood.
WHY NANOICE
Keep food fresh longer
nanoICE simultaneously cools and hydrates the product to preserve its quality and freshness without causing any damage.
Rapid Core Cooling Technology
The miniscule ice particles cool your product faster than any other ice solution
Long-Term Core Temperature Maintenance
Cooling to product core maintains temperatures ideal for a longer shelf life
Enhanced Bacterial Growth Prevention
nanoICE creates a stable low-temperature environment that limits bacterial growth
Reduced Product Weight Loss
nanoICE helps you to maximize the product volume and have more sellable weight
Preserved Product Appearance
nanoICE's silky-smooth texture with variable ice thickness is extremely gentle
Super Cooling
Greater temperature control with super-cooled water or ice from the machine
Industries and Applications
An out-of-the-box innovation
Use nanoICE to successfully preserve the freshness of seafood catch both on- and offshore.
Additionally, applications for fruit, vegetables, poultry, and meats are also possible.
You can choose to produce nanoICE in thick or thin consistency, or just produce ``super-chilled`` water to maintain your delicate products. The choice is yours!
TESTIMONIALS
What our clients say
I've used NanoICE for 5 years. Cooling is much faster and more consistent.
The fish quality is better, the buyers are happier, and we don't have to shovel flake ice anymore.
nanoICE is unique to the industry; we have not experienced results like these with any other ice product.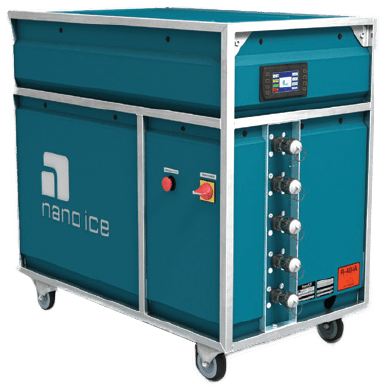 Our products
Flexible solution with high ROI
nanoICE provides a revolutionary technology that drives unique value to your business. It helps you to eliminate waste and spoilage costs and provides your customers with the high-quality products they're willing to pay for.
Do you have questions?
Do not hesitate to contact us! All you need to do is send us a message or give us a call.
Technology